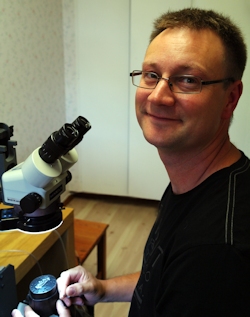 Welcome.
My name is Anders Hedlund
I make all kinds of knives - folders, stick and full tang fixed blades and daggers, but folders are closest to my heart.
Design is important to me. The lines must be flawless during the drawing phase or else the knife will never be made. I see myself as a bit of a perfectionist when it comes to my knives.
Favourite handle materials are RWL-34 stainless steel, mosaic damascus steel, different sorts of pearl. But I can use almost any material, it just has to have that little extra.
After a week`s crash course in 2007, in the art of engraving with GRS instructor Sam Alfano, I have continued teaching myself in this difficul art.
All engravings are done by me.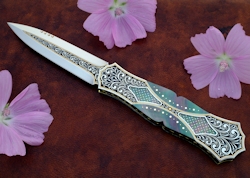 Knifemakers should share knowledge so we can learn from each other. This way knife making will evolve and all knifemakers will make better knives. I consider knife making an art form that requires mastering many different skills. You have to, like the drawer, have the feel for lines, so you can make exact drawings or templates. The painter's feel for colour is also necessary so that you can match the different knife materials. You also have to have the ability to envision the finished knife in the raw material, just like the sculptor does with a piece of stone or wood. And just like the sculptor, you remove material until the piece is finished.
My current shows are:
Solvang custom knife show, Solvang California and the ECCKS,
New Jersey
Contact: anders@hedlundknives.com
---
© www.hedlundknives.com
anders@hedlundknives.com